1947 MG TC
This is the car that started the sports car craze in America.  After WWII, GI's returning home brought with them British sports cars.  At home, they used them for daily drivers during the week and raced them on the weekend.  They remain a much desired vehicle today.
This was just recently added to our collection.  In 1950, our Dad started selling these along with other British cars such as Riley, Rover, Jaguar, and Austin.  So it remains dear to our hearts.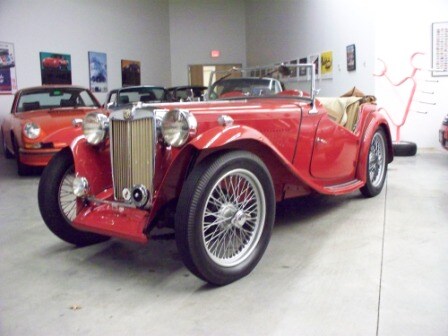 1959 Porsche Convertible D
In 1958, the production of the revered Speedster stopped and the Convertible D was built for one year before production was shifted to building the 356 B Roadster.  This was considered an "improvement" over the lightweight, nimble and fast Speedster.  The windshield was a little higher (it was still removable for racing), it came with roll up windows (the Speedster had side curtains), and it came with more comfortable seats (the Speedster had racing seats). 
This car was an early production car being 184 out of a total production of 1,366 and was actually built in 1958 as a 1959 model.  It was acquired in the late 1980's and went through a complete renovation in 2010.  The body work is flawless and it is so much fun to drive on those nice summer days.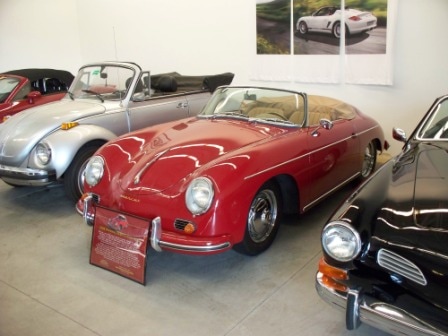 1960 Studebaker Lark Convertible
The Studebaker Lark was a product of the Studebaker-Packard Corporation.  It was an attempt to have a more economical and smaller car as compared to the huge cars being built by the "Big Three" (General Motors, Ford, and Chrysler) at the time.  Styling was very modern for the time with a simple grille, clean lines, and minimal use of chrome.  It had immediate success before sales started to drop off in 1962-63 and they finally went out of business.
Some of us may remember Studebaker as the primary sponsor of the Mr. Ed TV show staring Mr. Ed, the talking horse.  WIIIILBUUUUR
This convertible represents our heritage as we were a Studebaker dealer back in the 1960's.  It has a 6 cylinder engine with a three speed shifter on the column, otherwise known as "three on the tree."  It is the first year that the convertible was produced and is a great addition to our collection.