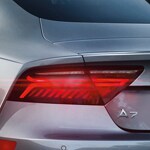 If you like driving a large luxury vehicle for the comfort, class, visual appeal and high-tech extras, the Audi A7 is sure to be right up your alley. The team at Morong Falmouth Audi has all the details on the A7, and you can test drive one today at our showroom here in Falmouth.
The A7 has received accolades for its many technology-based, safety-oriented features, but the cutting-edge amenities don't end there. A high-quality sound system is meant to make taking even routine trips a pleasure, and an easy-to-operate navigation and information center ensures that you won't get lost en route to your destination.
Numerous trim packages offer upgrades to suit nearly every taste. Among the many things to consider are whether you'd prefer your Audi A7 equipped with a heated and ventilated driver's seat, mood-setting ambient lighting, a dual-zone climate system or all of the above.