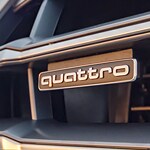 The Audi Q5 is a popular luxury compact SUV. It boasts performance features including at turbocharged 248 hp 2.0-liter engine and a seven speed S Tronic Transmission. The Audi Q5 is able to go from 0 mph to 60 mph in approximately five seconds. It is able to reach a peak of 273 lb-ft of torque at just 1,600 rpm.
The Audi Q5 includes quattro all-wheel drive that ensures efficiency and dynamic driving is met. The driving train is able to distribute torque in order to maintain traction and overall stability while driving. The towing capacity of the Audi Q5 has a towing maximum of 4.400 pounds. Audi drive select is also included with the Q5 model and allows the driver to select from five modes to adjust the steering, throttle response, and transmission shifts.
If you want to test drive a Audi Q5, come visit us at Morong Falmouth Audi. We look forward to helping you choose the best vehicle for your needs.