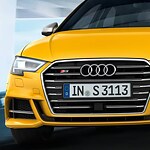 When it comes to performance, our team understands the importance of balancing out a fast car with a stylish exterior. You also want to make sure that it has all the comforts and technology for an enjoyable ride. Behind the wheel of your own Audi S3 Sedan, you can feel the engine's power in this popular compact luxury sports sedan.
Inside the Audi S3 is a powerful 2.0L turbocharged TFSI 4-cylinder engine. Its compact design puts out an impressive 288 horsepower and up to 280 lb-ft of power to be able to go from 0-60 mph in just over four seconds.
A seven-speed S tronic dual-clutch automatic transmission is paired with the TFSI engine to give you greater control at different shift points. You can also choose from different drive modes such as Comfort, Dynamic, and even customize your driving profile to match your style.